Demo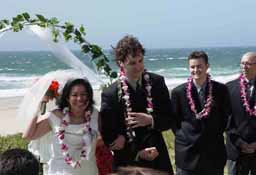 Full 7 minute Demo (on You Tube).

Credits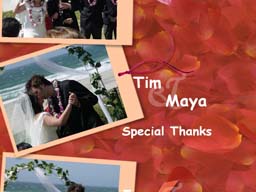 Photo Spindle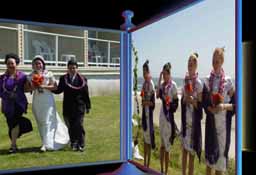 Spinning Frames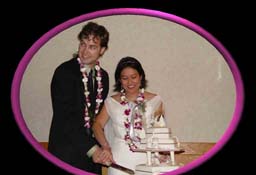 Photo Train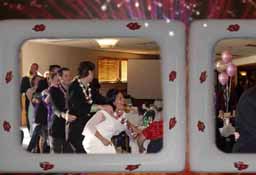 Wedding, Funeral, Memorial Service Video Slide Shows
Your slide show is delivered to you on a DVD. For a funeral / memorial service or wedding / special event you would provide between 35-90 digital photo images and/or pictures that need to be scanned; and we do the rest. The photo images (jpeg or png) would either be from digital cameras / phones / tablets / scanners / or from other devices. Images downloaded from the internet cannot be included.

WHAT MAKES US UNIQUE? First, we don't simply use your photo images as provided. We trim, crop, resize, and enhance them as needed. Then we build our video slide shows using advanced animation techniques to produce pleasing visual effects. Photos are displayed on spinning photo frame spindles, within moving photo frames, photos transition using page curl effects, photos float across the screen (sometimes against backgrounds such as clouds), etc. To see a demo, click on the link at left. We don't just give you a slide show, we give you a DVD that can be copied and shared with friends and family, and which can be played on a TV using a DVD player, as well as a PC/laptop equipped with a DVD drive and DVD viewing software.

THE PROCESS: We take the digital photo images and / or scanned images and trim, crop, and resize them as needed. In some cases we may do minimal photo enhancing to remove scratches and photo borders that distract attention during the slide show. We may brighten or darken the image to make it look better, etc. Photos are then grouped into segments, and each segment is set to display using a different animation technique. The segments are then joined together into a single video file which is then encoded for play as a DVD.

WHAT IS THE COST? The cost for creating your video slide show on a DVD is only $150. This includes free scanning of 30 photographs. Additional scanning is available for $1 per photograph. Photographs to be scanned must be no larger then 8x10 inches.

THE DVD contains two menu choices. The first menu choice is the video slide show described above. The second menu choice is a standard slide show using a pan and zoom technique which gives a feeling of motion as the images are displayed.

A copy of the scanned photographs (along with the edited digital images) is included on your DVD in a separate folder, intended for access from a PC / laptop; making it easy for you to copy and share the edited photos with friends and family. We cannot include copies of professional portraits in this folder.

MUSIC: Both the "video slide show" and the "slide show" are set to music. If you have special songs/music you want included, then you must provide a commercial / store bought CD containing the sound tracks you want included. This demonstrates your ownership rights to the music (we cannot use music downloaded from the internet or copied from the radio.) You can also choose to use a choice from our selection of royalty free music tracks which we own rights to. These musical choices include romantic music, classical piano, country and western, tropical islands, easy listening, and more.

ADDITIONAL INFORMATION ON SCANNED IMAGES: Photographs to be scanned often contain scratches, fading, water damages, and other affects from being stored over a long time period. While we will attempt to provide a minimal level of photo restoration, we are unable to guarantee any results on older photographs. For professional restoration work we suggest you utilize a professional photography service.