Welcome to Northwestpages.com
Northwestpages.com helps you create your web page. We take care of everything for you, from obtaining a domain name, to building your site, and then hosting it on the internet. Just click on the Web Design button above to see examples of our work.

Do you have a set of pictures that you would like made into a DVD? We offer this service, and can even take the pictures for you. We use styles that involve page curls, revolving photo spindles, movie like credits, and more. Just click on the Wedding DVDs button above to learn more.

If you use one of the 3D-Album products, then you'll want to check out Bill's How To videos. Just click on the 3D Album button above to learn more.

If you're looking for photos (for wall art) then just click on the Photos button. Bill sells 5x7, 8x10, 11x14, and 16x20 photos of lighthouses, covered bridges, flowers and gardens (including pictures taken at the Portland International Rose Test Garden), ocean scenes, mountain scenes, lakes, Crater Lake, and more,

To find out more about some of Bill's customers, simply click on the Links button.

Looking for our Psalm 8, Psalm 23, Psalm 100, or Lord's Prayer videos? These videos includes scenes from throughout the Pacific Northwest. The Lord's Prayer video includes Lighthouse pictures taken in Washington and Oregon. All are set to music, and the text is based on the King James translation. Watch the Psalm 8 video by clicking here.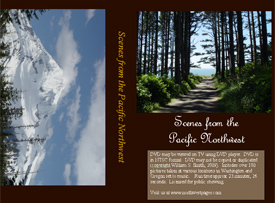 Scenes From the Pacific Northwest

Contains over 100 pictures taken at various locations in Washington and Oregon set to music. Run time approx. 23 minutes. The DVD is available for $30 for private use, and $100 for public viewing (doctor's office, restaurant, etc.).

To see a one minute sample on You Tube, simply click here.

Contact northwestpages if you would like to purchase this DVD.

Follow Northwestpages on You Tube or Facebook.